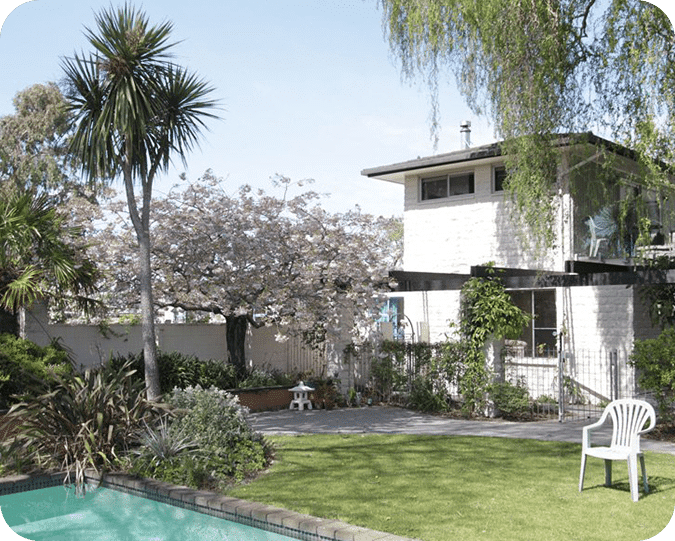 Self Realization Sevalight Centre
Christchurch
New Zealand
FOR PURE MEDITATION, HEALING & COUNSELLING
100 Highsted Road, Bishopdale Christchurch 8053
With the expansion of God~Guru?s work in full Divine force, we are quickly outgrowing our current spaces. We have faith that at the right spiritual time, we will have the funds needed to purchase another property nearby for accommodation. There will also be building work to undertake following the resolution of our earthquake claim, which will include a larger room for courses and services. Watch this space!
In Come, A Spiritual Journey, Mata Yoganandaji tells us of the adventurous beginnings of the SevaLight Retreat Centre in Christchurch. As part of the renovations to turn the large family home into a Centre, the garage was transformed into a Meditation Room completed with a beautiful stained glass window, remarkably rescued from a salvage yard by Mata Yoganandaji. In 2000, an adjacent property ?Seva Cottage? was acquired accommodating for an additional 12 guests. The gardens of the two properties meet to create a peaceful sanctuary.
Our Beloved Gurudeva Mata Yoganandaji has called Christchurch the ideal place for a Centre, and so it is. The Centre is located in the suburb of Bishopdale, just 10 minutes from the City Centre and the airport, making it easily accessible to all who live in the city and its surrounds, as well as to those travelling by air. This location makes it convenient for our yoga classes and healing clinic, as well as the courses, retreats which are held.
The gardens here are an enchanting reflection of God?s splendour. Several majestic trees around the property gives the Centre gardens a park-like feel. Many vibrant native plants and climbers are found throughout the grounds, offering textural interest. The climate in Christchurch is ideal for growing produce and the gardens give back generously.
In addition to the family of full-time volunteers who reside at the Centre permanently, the Centre? running is lovingly supported by many dedicated helpers. Working with these devotees is a great joy to us.
The wonderful service they provide is truly a God-send. And let us not forget our animal friend, Sasha. So far his main roles are starring in our videos and making us laugh with the antics he gets up to.
In the words of Mata Yoganandaji ?It has a peace and serenity about it that made one feel the presence of the Infinite Beloved.? Since its inception in 1995, the Centre has steadily grown and evolved and will continue to do so with the Blessing of our Beloved Gurudeva and her love that is palpable here. Come and visit ~ walk where the Master has walked.
We always welcome hearing from you and
would love to have you stay.
Contact Sevalight Christchurch Centre
Open to all, the center is a spiritual home to many who come to imbibe in the peace