There are times when I wonder how I managed in life before I met my Guru: Mata Yogananda Mahasaya Dharma. She has blessed and guided me in so many ways, and helped me through some truly challenging times. Looking back now, I am grateful for those struggles as they led me to her and to the teachings of the SevaLight Retreat Centre.
As so often happens, our meeting came about unexpectedly. I did not recognize my Guru at first, but she recognized me. I live close to the Canada Centre which she founded and this has been my spiritual home for the past decade. During this time I have immersed myself in the healing energy and profoundly peaceful stillness there, and returned over and over to recharge, refresh and imbibe deeply in the sacred silence.
Through my Guru's disciples and her written guidance, I have learned Pure Meditation and practice it daily with deep devotion. I have received Natural Spiritual Healing and Progressive Counselling which, together with Pure Meditation, has helped me to heal. I have learned to joyfully let go of attitudes, habits and perspectives that no longer serve me. I have felt more and more light enter my being. I hear her voice and see her before me in times of distress. She calms my worried mind when it wanders too far into fear, worry and doubt. Because of my Guru, I now walk in gratitude, with every step, every breath a whisper saying, "Thank you, God, thank you, thank you, thank you, thank you, for my life, for my Gurudeva, for my spiritual teachers" (my Guru's disciples who have blessed me beyond measure).
My relationship with my Guru has not only been guided through Pure Meditation and her written works and recordings, but also personally. In times of anguish and despair, she has responded to my letters with words of comfort and reassurance, giving me the strength to go on in faith. When I met her in person, she once again comforted me as my tears fell. Her love and radiance filled me with an indescribable joy and lightness which I carry with me to this day.
I know through personal experience that my Gurudeva's love and guidance transcends time and space. With deep devotion, I will celebrate its gift to me forever as I continue to link into her strength, love, guiding light and wisdom.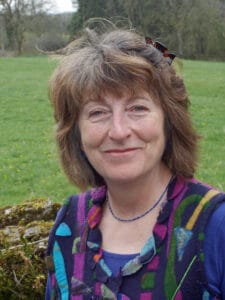 Janet North
Chewton Mendip, UK